Delta combat boots
The VÖLKL Delta family are the perfect combat boots for elite and special forces of the police and military. What makes them special? Despite their sneaker similar flexibility, lightness and dampening, these combat boots remain extremely strong, durable and noiseless. To achieve this flexibility, we have added an very flexible textile to the leather in the flexing areas of the shaft. The direct injection moulded sole with the special mix of rubber / PU ratio guarantees very good damping and insultation. And what about the lightweight? Just try it out!

Upper made of PU coated and abrasion resistant waterproof leather, thickness 2.0 - 2.2 mm, combined with a water repellant and abrasion resistant CORDURA® fabric
textile lining with opened structure in combination with breathable foam of 7 mm thickness for increased air circulation and perfect climate in the boot
very light, flexible and breathable boot construction, comfortable fitting
Abrasion resistant scuff cap in the toe area to avoid premature damage to the leather upper
pull on loop at the back of the upper, abrasion resistant laces, rust resistant hooks and loops. The boot can be produced with loops only
Ankle bone and forepart padding, anatomical padded tongue, preformed and reinforced heel stiffener, moving part at the back for more flexibility an comfort.
anatomical, removable insole with moisture management system, washable at 30°
Profiled self-cleaning sole made of highly abrasion resistant rubber and polyurethane, directly injected on the upper, with a profile depth of 6 mm for optimal foothold on varied terrain. High shock absorption value in the heel area and the whole surface.
Perfect isolation against high and low temperature. Best slipping resistance coefficient in accordance to the norm DIN EN ISO 20347, category SRC. Antistatic. Oil, fuel and acid resistant
Which Delta fulfills your requirements best?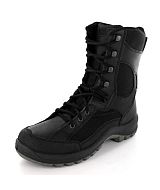 Delta
The VÖLKL Delta is the high version of the Delta family. With its 22 cm it i the first sneaker in the market.
Item number: 9124502

Delta Light
The Delta Light is the ankle-high boot of the Delta family with a shaft height of 16 cm. It provides additional protection from twisting, it is lightweight and comfortable.
Item number: 9124202